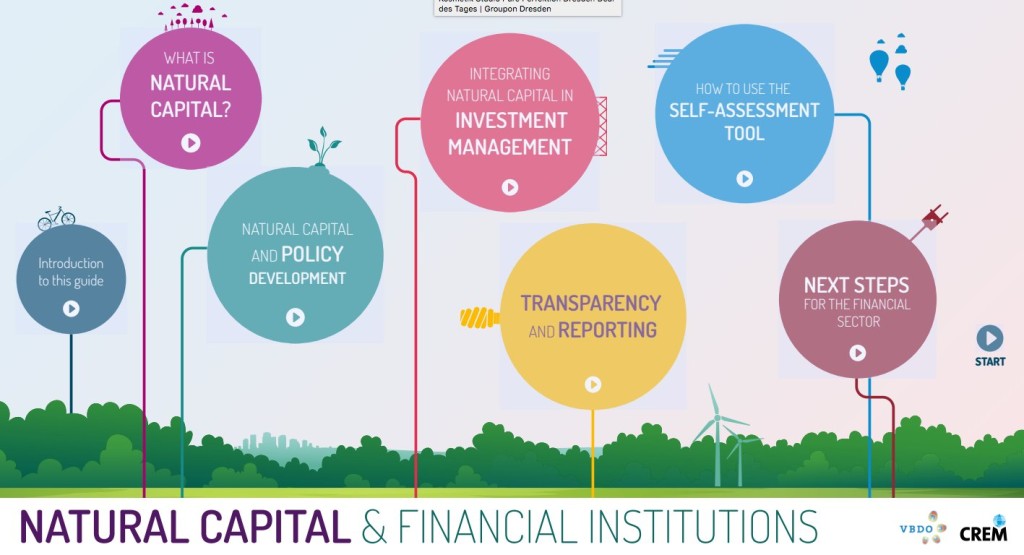 Author(s): VBDO, CREM
Title: Inter­ac­tive Guide on Nat­ural Cap­i­tal for Finan­cial Insti­tu­tions

Year: 2016
Pages: 169.
Pub­li­ca­tion type: report
Lan­guage: English
Source: http://www.mercadosdemedioambiente.com/biblioteca/capital-natural/425_interactive-guide-on-natural-capital-for-financial-institutions/#gdQ0rUdaAbtIZJYE (in Span­ish) and the link to the pdf of the arti­cle (full text, in English)
About:
Los exper­tos de la Aso­ciación Holan­desa de Inver­sores para el Desar­rollo Sostenible (VBDO, por sus siglas en holandés) y la enti­dad holan­desa espe­cial­izada en sosteni­bil­i­dad CREM han desar­rol­lado una guía inter­ac­tiva del cap­i­tal nat­ural para facil­i­tar a las enti­dades financieras que quieran tener en cuenta sus inter­ac­ciones con los recur­sos nat­u­rales a la hora de ges­tionar sus inver­siones. La guía aporta ori­entación prác­tica para ayu­dar a las enti­dades financieras a cono­cer, por ejem­plo, de qué man­era puede ser tra­ducido el cap­i­tal nat­ural a estrate­gias de inver­sión respon­s­ables como políti­cas de exclusión, el ejer­ci­cio activo de los dere­chos accionar­i­ales, la inte­gración de los fac­tores ASG (Ambi­en­tales, Sociales y de Gob­er­nanza) o inver­siones de impacto. Además, esta ini­cia­tiva tam­bién sirve de guía sobre de qué man­era pueden las insti­tu­ciones financieras ser trans­par­entes en sus acciones e impactos rela­ciona­dos con el cap­i­tal natural.