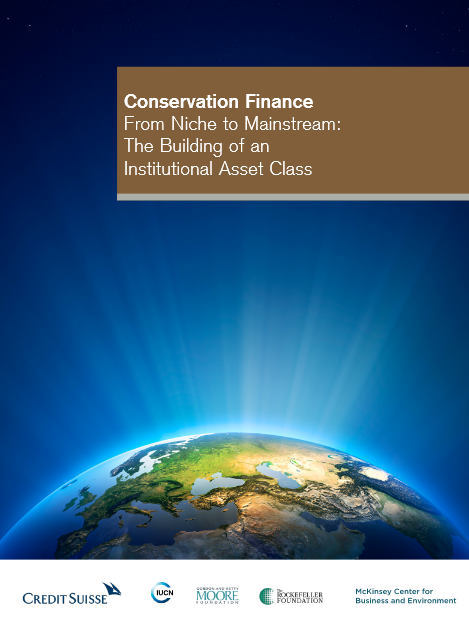 Author(s): Credit Suisse AG and McK­in­sey Cen­ter for Busi­ness and Environment
Title: Con­ser­va­tion Finance — From Niche to Main­stream: The Build­ing of an Insti­tu­tional Asset Class

Year: 2016
Pages: 28.
Pub­li­ca­tion type: report
Lan­guage: English
Source: https://www.environmental-finance.com/content/research/conservation-finance-from-niche-to-mainstream.html
and find the pdf of the report here.
About:
Sus­tain­able farm­land, healthy forests, clean water, and abun­dant habi­tat stand to become more valu­able as the global pop­u­la­tion climbs to nine bil­lion by 2050. Already, pio­neer­ing investors have put together finan­cial solu­tions that com­bine real assets, such as trop­i­cal forests, with cash flows from oper­a­tions in fields such as sus­tain­able tim­ber, agri­cul­ture, and eco­tourism. Con­ser­va­tion finance, as this field is known, rep­re­sents an unde­vel­oped, but emerg­ing pri­vate sec­tor invest­ment oppor­tu­nity of major proportion.

In the attached report, which Credit Suisse devel­oped together with the McK­in­sey Cen­ter for Busi­ness and Envi­ron­ment, we pro­pose a toolkit for sub­stan­tially grow­ing the invest­ment that flows into the con­ser­va­tion sec­tor, illus­trated by a few con­crete ideas that we deem to be scal­able, repeat­able, and investable. Imple­ment­ing these ideas will require strong col­lab­o­ra­tion between the finan­cial and envi­ron­men­tal com­mu­ni­ties to find new and cre­ative ways of solv­ing the finan­cial struc­tur­ing and con­ser­va­tion chal­lenges at hand.

This report is pri­mar­ily tar­geted at main­stream investors (i.e., insti­tu­tional investors, (U)HNWI, and retail investors) who are inter­ested in learn­ing more about invest­ment struc­tures that pro­vide a market-rate return in a low-yield envi­ron­ment as well as a pos­i­tive con­ser­va­tion impact.