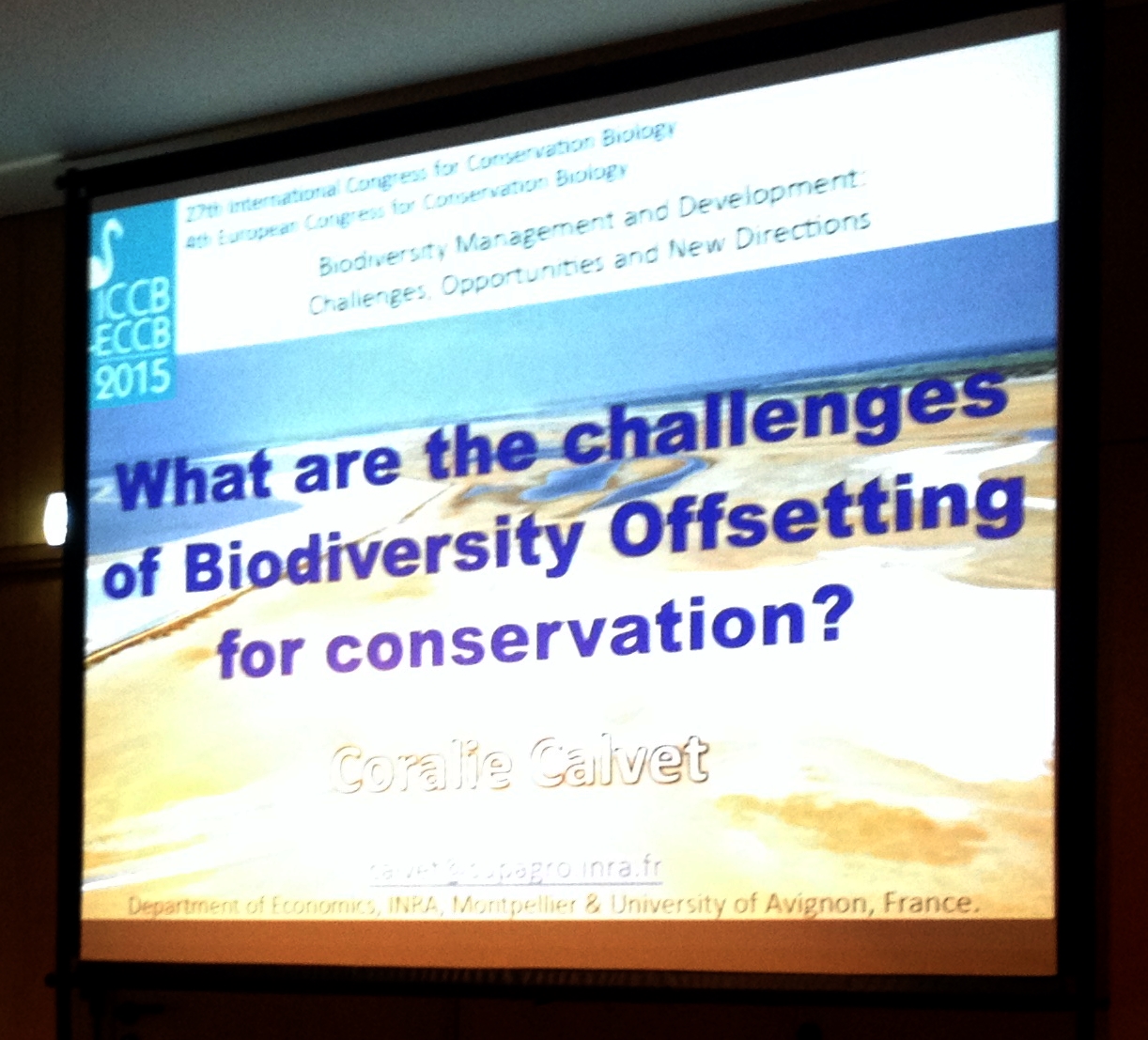 Well, as I have men­tioned in my pre­vi­ous post today some­times it's the more inter­est­ing things that slip through your fin­gers, even with your best inten­tions — or because of them. This was par­tic­u­larly the case for the "Bio­di­ver­sity man­age­ment and devel­op­ment: chal­lenges, oppor­tu­ni­ties and new direc­tions" sym­po­sium I attended (and con­tributed to) at ICCB-ECCB. This was a fan­tas­tic line-up of experts in the filed of off­sets and top­i­cal dis­cus­sion on the sub­ject. I had very briefly posted about this while still at the con­fer­ence and shared some visual impres­sions (Bio­di­ver­sity Off­sets are all-around at the 27th Inter­na­tional Con­gress for Con­ser­va­tion Biol­ogy ICCB-ECCB 2015) together with the promise to have some more detailed feed­back soon after. Because I thought this deserved greater atten­tion I haven't actu­ally done it so far (which is a pity). Other great peo­ple how­ever have pulled some­thing together and I will now at least share their tremen­dous work in sum­ma­riz­ing before every­one ulti­mately for­gets ICCB-ECCB even happened.
First of all, there is Megan Evans who was tweet­ing through­out the sym­po­sium and the whole con­fer­ence (I admire this and still think I need to get on twit­ter, too some time in the future when time goes less fast, the grass is greener and the sun is shin­ing… ;o)). Out of these tweets and some addi­tional infor­ma­tion Megan cre­ated a storify that sums it up quite nicely (see below).
Fabien Quétier went even a step ahead and cre­ated this con­cise and still com­pre­hen­sive sum­mary (see also below).
Before I for­get it, I at least want to share my own pre­sen­ta­tion from the sym­po­sium (2015_Darbi_Montpellier_German IMR_extended). I had attempted have all the other's too, but obvi­ously not every­one was com­fort­able with that, so any­one who wants to join, leave me a short note and I'd be happy to upload yours, too!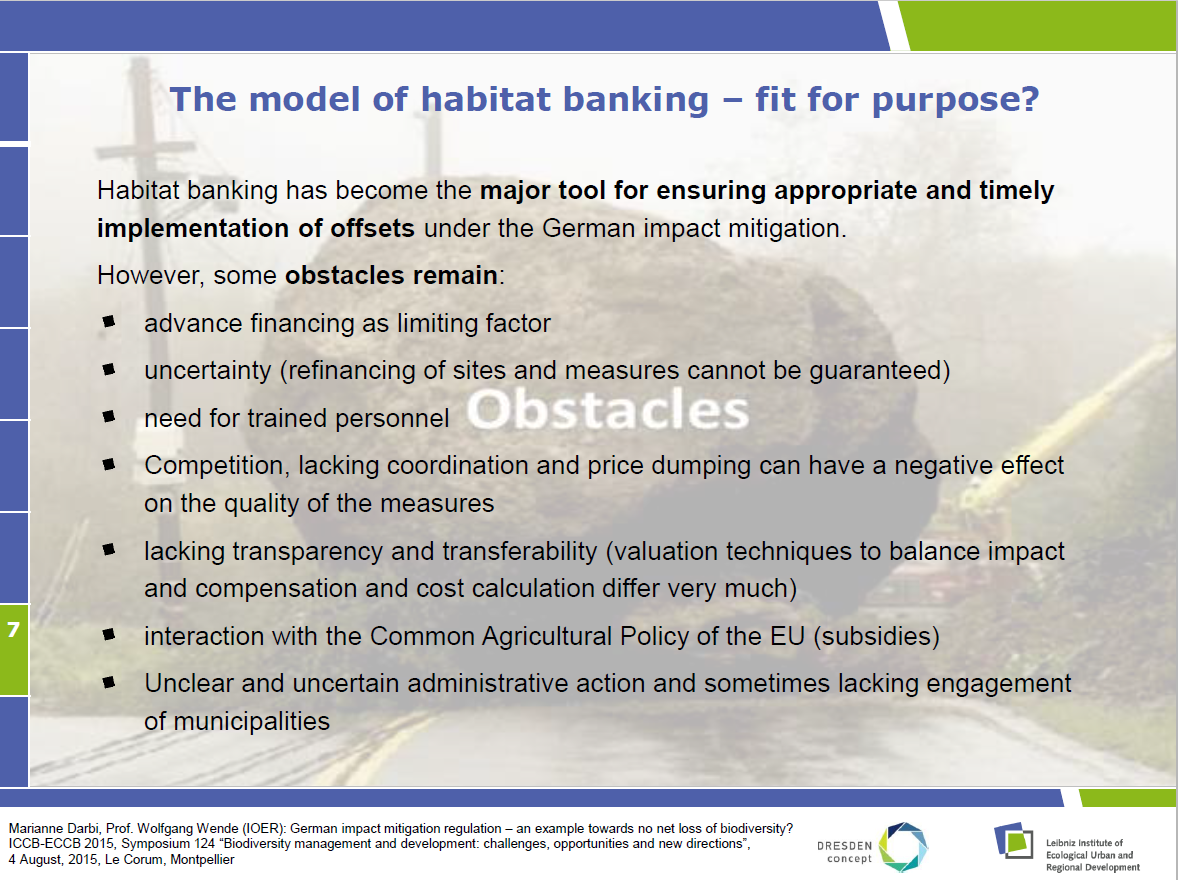 Bio­di­ver­sity man­age­ment sym­po­sium #ICCB2015 — storify col­lec­tion of tweets
Here's the link to Megan's awe­some storify. By the way, she also gave a pre­sen­ta­tion in a dif­fer­ent ses­sion deal­ing with the prob­lem of eval­u­a­tion of poli­cies and the ques­tion whether no net loss is ulti­mately pos­si­ble — she has posted about this on her blog where you can also down­load her pre­sen­ta­tion: Is no net loss pos­si­ble? My #iccb2015 pre­sen­ta­tion.
Sym­po­sium on BIODIVERSITY MANAGEMENT AND DEVELOPMENT: CHALLENGES, OPPORTUNITIES AND NEW DIRECTIONS at the 27th Inter­na­tional Con­gress for Con­ser­va­tion Biol­ogy, 4th August 2015, in Mont­pel­lier, France — a sum­mary by Fabien Quétier

With bio­di­ver­sity in con­tin­ued global decline, there is increas­ing con­cern that its loss should not be accel­er­ated by the impacts of devel­op­ment projects. Goals of 'no net loss' or 'net gains' of bio­di­ver­sity are being set by cor­po­ra­tions, banks and gov­ern­ments, includ­ing the Euro­pean Union through its No Net Loss ini­tia­tive (expected in 2015). Inter­pret­ing and track­ing these goals, and imple­ment­ing actions to achieve them, pose chal­lenges that have tech­ni­cal, socio-economic and polit­i­cal dimen­sions.

Through con­tri­bu­tions from key experts from acad­e­mia, indus­try, con­ser­va­tion orga­ni­za­tions and spe­cial­ized con­sul­tan­cies, the sym­po­sium illus­trated the con­cepts under­ly­ing no net loss/net gain approaches (includ­ing bio­di­ver­sity off­sets) and the lat­est devel­op­ments from sci­ence, pol­icy and prac­tice. High qual­ity exchanges with par­tic­i­pants focused on the need and oppor­tu­nity for con­ser­va­tion biol­o­gists to engage, so as to shape the debate and con­tribute to emerg­ing best prac­tice, as well as the lim­its and risks of poorly designed off­sets and policies.

A key mes­sage from the sym­po­sium is con­ser­va­tion sci­en­tists can have a role in clar­i­fy­ing the mean­ing of 'no net loss', which is an incred­i­bly dif­fi­cult goal to achieve in prac­tice. Although expec­ta­tions should be mod­est, con­ser­va­tion biol­o­gists need to find prag­matic solu­tions to bio­di­ver­sity loss from devel­op­ment. This means keep­ing eyes on big picture.

Bio­di­ver­sity off­sets can be done really well, but if not, they can become a "license to trash". Gov­er­nance, in par­tic­u­lar, is cru­cial: most issues with poor off­set imple­men­ta­tion is due to inad­e­quate mon­i­tor­ing and eval­u­a­tion, which also gen­er­ates low pub­lic trust. Con­ser­va­tion sci­ence also has a key role to play in eval­u­at­ing off­set poli­cies and prac­tice, and mak­ing the results pub­licly available.

Order of presenters:

Kerry ten Kate, For­est Trends
Joseph Bull, Uni­ver­sity of Copenhagen
Steven Dick­in­son, Total
Leon Ben­nun, The Bio­di­ver­sity Consultancy
Mar­tine Maron, Uni­ver­sity of Queensland
Jussi Laitila, Uni­ver­sity of Helsinki
Ascelin Gor­don, RMIT University
Mar­i­anne Darbi, Leib­niz Insti­tute of Eco­log­i­cal Urban and Regional Devel­op­ment (IOER)
Celine Jacob, Créocéan

&

 CEFE
Fabien Quétier, Biotope
Coralie Cal­vet, INRA
Joseph Kiesecker, The Nature Conservancy

For more infor­ma­tion con­tact Fabien Quétier fquetier@biotope.fr ; +33 621 51 26 66

Overview of the sym­po­sium and key messages

Kerry ten Kate set the scene with a call for action, to find solu­tions to bio­di­ver­sity loss from devel­op­ment, argu­ing that mit­i­ga­tion mea­sures planned for no net loss, includ­ing off­sets, can be part of the solu­tion when under­taken accord­ing to high stan­dards. Con­ser­va­tion biol­o­gists need to contribute!

At ICCB 2015, Kerry ten Kate calls to action.

Joe Bull and WCMC had a look at how much off­set­ting is actu­ally being done… For exam­ple, only 0.02% of USA land area are rec­og­nized as bio­di­ver­sity off­set sites ("species banks"). This is inter­est­ing given the con­tro­versy they generate.

Steven Dick­in­son, from oil major Total, pre­sented the busi­ness case for a cor­po­ra­tion to be proac­tive regard­ing bio­di­ver­sity: more trust, less delays. As part of their bio­di­ver­sity strat­egy TOTAL part­ners with local NGOs with exper­tise to imple­ment com­mit­ments on the ground. It's not just about gov­ern­ments reg­u­lat­ing the pri­vate sector.

Con­cern­ing the role of gov­ern­ment, Leon Ben­nun explained how there are many ways of design­ing poli­cies around 'no net loss', which must artic­u­late the 'no net loss' objec­tive with e.g. pre-existing poli­cies on land-use or sec­to­r­ial regulations.

Mar­tine Maron went on to show how poli­cies must be explicit about what they mean by 'no net loss' and how they cal­cu­late it. Her work in Aus­tralia has shown that the base­line against which losses and gains are cal­cu­lated doesn't reflect the actual rates of bio­di­ver­sity loss, lead­ing to a 'net loss' outcome.

At ICCB 2015, Mar­tine Maron shows how off­set poli­cies in Aus­tralia risk 'locking-in' bio­di­ver­sity losses from for­est clearing.

Jussi Laitila summed up some of the key risks asso­ci­ated with poorly designed off­set poli­cies, and the sci­en­tific chal­lenges asso­ci­ated with mea­sur­ing bio­di­ver­sity losses and gains, tak­ing into account time lags and actu­ally imple­ment­ing when those involved have com­pet­ing interests.

At ICCB 2015, Jussi Laitila presents per­verse incen­tives asso­ci­ated with offsets.

After an active ques­tions & answers ses­sion, Ascelin Gor­don went on to explain how mod­el­ling can be used to con­duct ex-ante eval­u­a­tions of off­set poli­cies, in par­tic­u­lar regard­ing the crit­i­cal issue of counterfactuals.

Mar­i­anne Darbi gave us insights on over 30 years of expe­ri­ence with bio­di­ver­sity off­sets in Ger­many. The coun­try has a manda­tory off­sets sys­tem, which oper­ates at State level, using 'habi­tat bank­ing' as a major tool for imple­ment­ing off­sets in spite of obsta­cles such as finan­cial uncer­tainty, lack of capac­ity, trans­parency, and clar­ity with EU directives.

Céline Jacob went on to present lessons learned from the appli­ca­tion of the mit­i­ga­tion hier­ar­chy to off-shore and coastal projects in Europe. Incred­i­bly, a large share (42%) of envi­ron­men­tal mea­sures tied to such projects are for mon­i­tor­ing… yet we still lack data on outcomes!

At ICCB 2015, Céline Jacob shows us where the money for bio­di­ver­sity goes in off­shore and coastal devel­op­ment projects.

Fabien Quétier pre­sented an extreme case for achiev­ing 'no net loss' using the mit­i­ga­tion hier­ar­chy and off­sets: the for­est land­scape that strad­dles the bor­der between Camer­oun, Congo and Gabon, which har­bors large road-less areas of low­land rain­for­est as well as… world class deposits of iron ore. Can the for­est be restored?

Speak­ing of restora­tion, Coralie Cal­vet pre­sented the invest­ment by a pilot 'habi­tat bank' in France which restored over 300 ha of dry grass­lands in South­ern France. The com­pany faced con­sid­er­able dif­fi­cul­ties in mak­ing off­set trades due to strict equiv­a­lence (like-for-like) require­ments, and there is a clear incen­tive to loosen these require­ments to favor pri­vate invest­ments in con­ser­va­tion and restora­tion on the basis of offsets.

Joe Kiesecker con­cluded the sym­po­sium by tak­ing a step back and mak­ing the case for landscape-level plan­ning, where devel­op­ment and bio­di­ver­sity objec­tives can be jointly opti­mized, includ­ing no-go (avoid­ance) areas. He gave exam­ples from Kansas, as well as South America.

The sym­po­sium led to numer­ous exchanges with the audi­ence, on key con­cepts – includ­ing their eth­i­cal and polit­i­cal dimen­sions – and prag­matic solu­tions and chal­lenges. A very rich topic indeed!
See also my related post SHORT INFO — Biotope au Con­grès Mon­dial de Biolo­gie de la Conservation