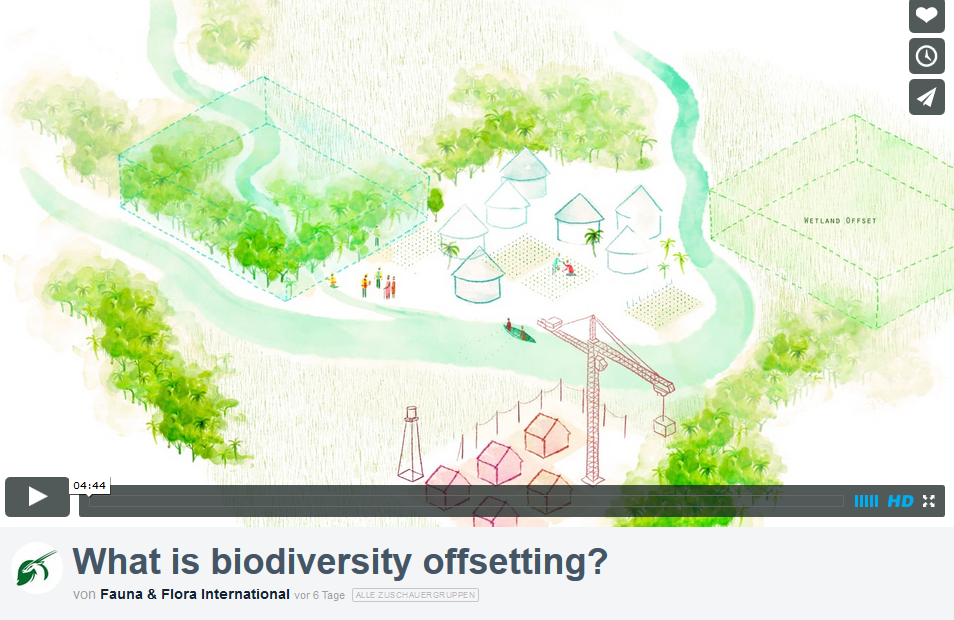 Flora and Fauna Inter­na­tional have pre­pared a short (less than 5 min) ani­ma­tion explain­ing the impact of human con­sump­tion on nature as well as the basic prin­ci­ples and func­tion­ing of bio­di­ver­sity off­sets. The video is sim­ply and nicely illus­trated. To watch it online, click below. And read also what FFI says about it:
What is bio­di­ver­sity offsetting?
We live in a chang­ing world.

Our grow­ing demand for mate­r­ial things depends on min­ing, oil & gas, agri­cul­ture and infra­struc­ture — all of which trans­form vast swathes of our nat­ural world.

The ques­tion is how to man­age devel­op­ment and eco­nomic growth while main­tain­ing healthy, func­tion­ing ecosys­tems that sup­port bio­di­ver­sity and pro­vide the essen­tials for life on earth.

This short ani­ma­tion looks at bio­di­ver­sity off­set­ting — and asks whether it could help main­tain this dif­fi­cult balance.…
What is bio­di­ver­sity off­set­ting? from Fauna & Flora Inter­na­tional on Vimeo.