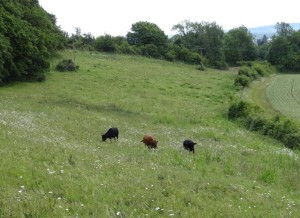 What's it about in short: update on the UK's first for­mal bio­di­ver­sity off­set­ting agree­ment after two years: Bushey Bank, an area of chalk grass­land on the Earth Trust Farm
When was it released: Novem­ber 24, 2015
By whom: Earth Trust
More info: http://www.earthtrust.org.uk/about-us/news/latest-news/15–11-24/First_biodiversity_offsetting_agreement_benefits_nationally_important_wildlife.aspx

Short extract:
The UK's first for­mal bio­di­ver­sity off­set­ting agree­ment has reached its sec­ond anniver­sary. Earth Trust signed an agree­ment with the Envi­ron­ment Bank in 2013 and Bushey Bank, an area of chalk grass­land on the Earth Trust Farm, is already show­ing gains for wildlife, includ­ing a num­ber of nation­ally scarce invertebrates.

[…]

Cllr Eliz­a­beth Gille­spie, South Oxford­shire Dis­trict Coun­cil Cab­i­net Mem­ber for Devel­op­ment, Build­ing Con­trol and Hous­ing, added: "With sig­nif­i­cant devel­op­ment expected in South Oxford­shire over the com­ing years it is extremely impor­tant that we do all we can to replace any nat­ural habi­tats that we lose. In many areas this will sim­ply mean ensur­ing that nat­ural spaces are in the new devel­op­ment, how­ever when this is not pos­si­ble schemes such as bio­di­ver­sity off­set­ting are very impor­tant, so these early reports from Bushey Bank look very promising."

Find out more about Bushey Bank and bio­di­ver­sity off­set­ting.