In our very inside, there is a child in each of us which makes that we hardly ever loose our joy of play­ing. That's prob­a­bly why things like the fol­low­ing game usu­ally attract our atten­tion far more than sim­ple words (yes, even aca­d­e­mics like to play ;-)).
A new game from the Cam­bridge Insti­tute for Sus­tain­abil­ity Lead­er­ship chal­lenges busi­ness to reduce envi­ron­men­tal impacts within a bud­get in a bid to demys­tify nat­ural cap­i­tal. That's a fun way to explore how dif­fi­cult it is to make the right deci­sions for our envi­ron­ment (within a bud­get) and nicely illus­trates those those top­ics that are press­ing "heav­ily" on us: cli­mate change, water scarcity, bio­di­ver­sity loss etc. Try it our your­self and play it here.
How to play
You only have £100,000 to reduce your business's envi­ron­men­tal impacts
Gen­er­ate finan­cial value by reduc­ing envi­ron­men­tal impacts
Col­lect risk reduc­tion cred­its by tak­ing strate­gic deci­sions on interventions
You firstly need to con­sider what your business's pri­or­i­ties are. Do you want to:
Reduce only the impacts most impor­tant for your company?
Increase human well-being as much as possible?
Reduce the risks to your business?
Con­sider a bal­ance between each?
The out­come
This is what your results might look like.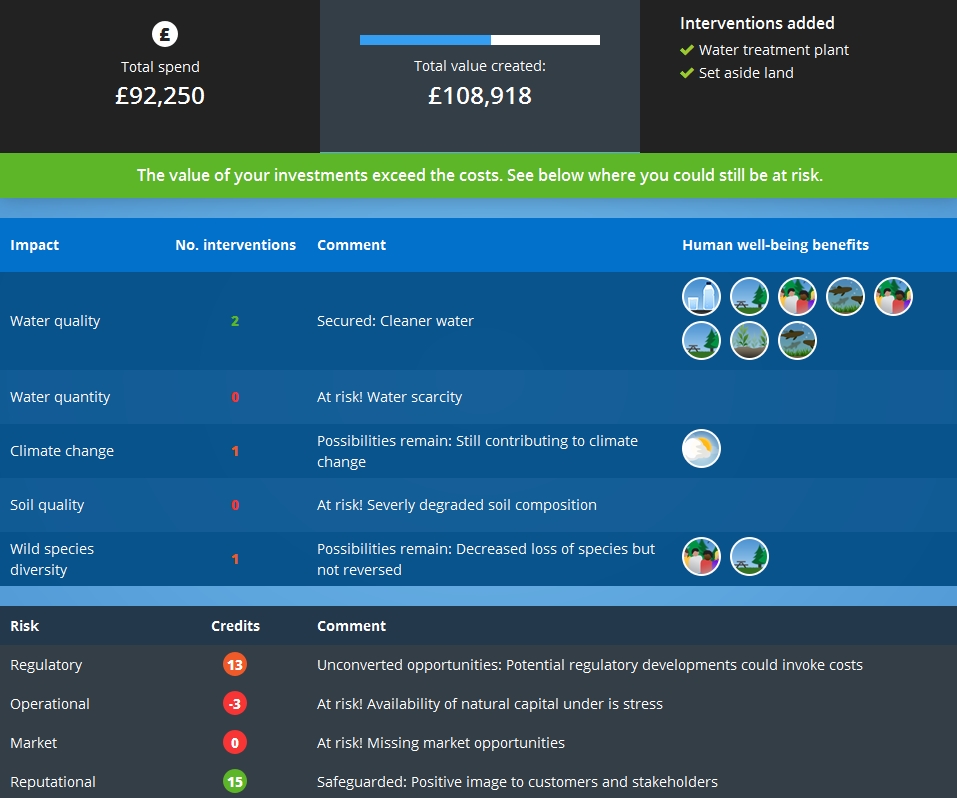 About the game: E*Valu*A*Te –Exter­nal­ity Val­u­a­tion Assess­ment Tool
Do you want to under­take an envi­ron­men­tal val­u­a­tion for you com­pany and apply what you have learnt in this game?. E.Valu.A.Te is the next step.
What is the Tool? — An online Tool that pro­vides inter­ac­tive, step-by-step guid­ance to help cor­po­rates com­plete a site-specific eval­u­a­tion of envi­ron­men­tal externalities

E.Valu.A.Te shows users how to con­sider changes in the envi­ron­ment result­ing from the activ­i­ties of their com­pany and the effect these changes have on the wel­fare of oth­ers who depend on the same envi­ron­men­tal resource.

By using sce­nar­ios poten­tial strate­gies and actions related to address­ing that spe­cific exter­nal­ity can be assessed.

The Tool walks users through each step of this process, offer­ing sup­port and com­ment on the choice of method­olo­gies available.

If you want more infor­ma­tion on val­u­a­tion and CISL then please go to www.cisl.cam.ac.uk/natcap or con­tact us by email